Though Paris-based artist Taylor Holland spends most his time capturing the artistry of Eurobuses, he took a brief break to create EmojiGIFs.com, a flashing shrine to our favorite mobile graphics. Holland announced it on his blog earlier this week, writing, "Hard to believe no one's ever done it. So I did it."
It's best viewed as one overwhelming blinky page, but some individual GIFs still command their own attention, especially as they warp emoji favorites into micro-narratives. While the NYC skyline layered on the Statue of Liberty is intuitive, the old lady-knife-shower GIF tells the story of Hitchcock's Psycho and the chick with an egg skirt makes an ancient question contemporary: which came first?
Other emogifs play visual tricks: the see-no-evil monkey looks like he's washing his face while the bride appears to be alternating between her red mouth and Lorde's dark lip. And apparently modern-day Santa moonlights as a cop. What else will reveal itself in this vaguely disorienting, transforming emoji world? We really hope no one recreates a film with these, similar to Emoji Dick.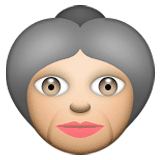 All GIFs via www.emojigifs.com/
Related:
Transform Any Image Into An Emoji Mosaic
An Emoji Ethnicity Update Might Happen Sooner Than We Expected