Blog
Proenza Schouler Weaves Web Art-Inspired Fashion Film
Today the high-fashion womenswear brand Proenza Schouler released their new Tumblr-inspired fashion film directed by David Sims and Eddie the Wheel. It's an assaulting array of lo-fi neon textures, quick edits, and layered video collages, designed for the shortest of attention spans. The clothes featured take a backseat to the brand's assertion that it's hip to digital culture and the aesthetics that have been circulating online under the umbrella of net art.
The video (above) accompanies Proenza's website relaunch and a whole slew of efforts intended to position the luxury brand as #new #hip #trendy #cuttingedge–from controversial YouTube films directed by Harmony Korine to GIFs by net artist Jeanette Hayes. The brand's designers, Jack McCollough and Lazaro Hernandez, differentiate themselves from other luxury brands interested in tapping into old-fashioned, stifled elegance. "This Internet aesthetic we're talking about, there's no nostalgia to it. I think that scares people," McCollough told the Business of Fashion. "A lot of luxury brands like to fall back on nostalgia, because nostalgia feels luxurious to them. We're into luxury, but we're also equally interested in contemporary culture."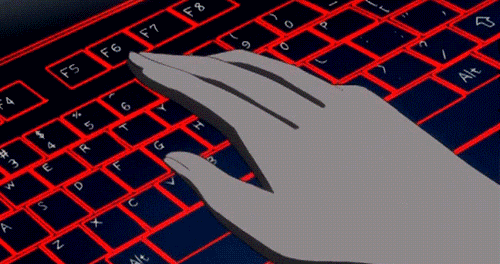 Nostalgia is an interesting choice of words. McCollough seems to be forgetting that contemporary culture and particularly the net art Tumblr aesthetic is loaded with nostalgia, just nostalgia for a more recent era than the roaring twenties and drop-waist dresses. For example, the aesthetics in Proenza's video harken back to early digital effects reminiscent of 80s movies like Tron and Dune. And GIFs turned 26 this year. One of Proenza's new GIFs featured above, an anime cartoon of a young girl in her bedroom, immediately brings to mind the 90s fad for Sailor Moon. This stuff isn't new. But what is new is our ability to access and circulate these images and moving images via platforms like Tumblr. The internet, or at least how we use it, accelerates the cycle of nostalgia.
An example of the nostalgic effects in the new Proenza Schouler fashion film.
In the same interview, McCollough told the Business of Fashion that Proenza isn't "your mom's luxury brand." But I think moms might be the only people to whom this Tumblr-aesthetic is going to seem totally new. The trend has already made the transition from marginal to mainstream with its appearance in Azaelia Banks' music video and Rihanna's performance on SNL last December. And it's hit the fashion world too, just see Kenzo's fashion film directed by Natalia Stuyk released two weeks ago. Considering the price tag of the goods Proenza's hocking–close to a thousand dollars for a dress–their target customer is probably not the 20-something on Tumblr but instead the uptown woman who wants a piece of it.
Digital culture and the aesthetics associated with it are only bound to get more and more popular—and as they do we can expect them to intersect with the fashion world more and more. But it's not just about fashion capitalizing on digital culture and the aesthetics associated with it. Digital culture and fashion culture are intersecting and breeding a culture all their own, just check out witty fashion web magazine DIS Magazine or Greta Larkins GIF-based fashion Tumblr. Proenza Schouler is smart to get on board.
[via Business of Fashion]