Blog
Super Mario Bros. Gets Stripped Down In "Minimal Mario"
Mario is an instantly recognizable figure—that moustache, those dungarees, the hat. Wherever you see Shigeru Miyamoto's creation, whether it be pirated in the wrong colours, in 3D or 8-bit form, he's unmistakable. Even in his original adventure Super Mario Bros. you can see the customary attributes that make up this princess-rescuing plumber. But how about if he was reduced to a single block? Along with the coins, the Koopas and everything else. Well that's what indie game developer Jaeden Amero has done with his NES ROM hack, which is both a celebration of this seminal game and an act of defiance.
Amero created a stripped down, playable version of the classic video game using a hacked Super Mario Bros and explains the process here. Making your own version involves doing a dump of your Super Mario Bros. cart, applying his IPS patch, and playing it with an emulator. Then you can enjoy the Mushroom Kingdom as never before—in basic block form—and in these days of hyper-realistic, high resolution graphics, you can take rebellious pleasure in something so completely rudimentary and spare.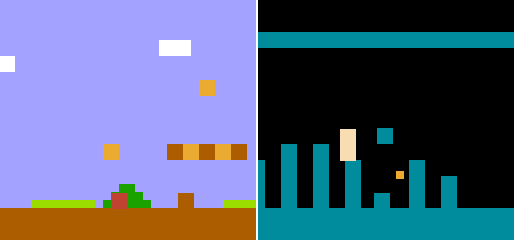 [via GameSetWatch]