Blog
The Age-Old "Hobo Codes" Get A Digital Update
It's hard sometimes. As a vegan digital nomad constantly in search of a cafe with a decent wifi connection, a good cup of joe, and a nearby dumpster you can pillage for lunch, navigating the city streets every day can be daunting. How the hell are you supposed to find the perfect place to squat with your laptop and get work done when you're inundated with options, and none of them are quite right?
But wait, what's that? Those abstract pixel-looking things spray painted on the wall beside this fine establishment? Is that a QR code? Pulling out your trusty smartphone to scan it, you quickly find out that the wifi here is pretty weak, and their coffee more so. On to the next one, vagabond!
QR codes are really getting around these days and with this latest project from FAT Lab's Golan Levin, we could start seeing them in even more places, taking on a much more practical, albeit humorous, role of guidance and navigation.
The crux of the project is a QR Stenciler that was created in Processing and can convert QR Codes into stencil patterns, which can then be laser cut and used to spray paint the designs anywhere. QR codes are actually a tricky thing to turn into stencils due to so-called "stencil islands," or areas of the original design that aren't actually connected to any other part of the code. However, it was devised that if a thin enough bridge is used to connect them, it would be undetected by a typical code scanner.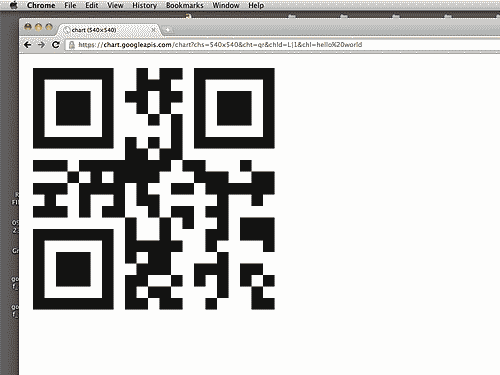 As referred to above, taking a cue from the visual mark-based language used by vagabonds in the 19th-Century, Levin created a series called QR_HOBO_CODES. The designs communicate classic hobo messages, as well as messages that are more suitable to the 21st century wanderer. Messages include, "bad coffee," "be ready to defend yourself," "free wifi," "free out-of-date-food," "good veg-burger," "vegans beware," "good dumpster," and "no outlets." You can view the full list of QR Hobo Codes here.
Like a guerilla Yelp for the hobo of the digitized world, we may be apt to see modern vagabonds trading in their bindle bag hung for their trusty iPhone, ready to scan messages that will advise them where to plug in their computers and to eat their veggie burgers. It's a fun project that makes interesting use of a tool that is now becoming an aesthetic in its own right, and, if nothing else, seems to herald a new era of QR Code graffiti.
The original post offers step by step instructions for how to download and produce the stencils so you can start posting your own messages all around your town or city.